University of Illinois Research Park
The Research Park at the University of Illinois is a collaboration between the university and Fox/Atkins Development, LLC. It is designed to encourage research and development by private industry, while providing access to numerous amenities including the benefits of:
Leading faculty who can offer expertise and world-class research in relevant fields for a specific business purposes. Faculty often help as consultants, engage through Research Park startups, and provide guidance to companies on a wide range of topics.
An exceptional student population providing a year-round workforce allowing companies flexibility in setting up teams with high skills to rapidly work on projects with interdisciplinary teams while also creating a pipeline for full-time recruitment.
Local peer community of companies in the Research Park that share best practices with each other in a close-knit community. Site directors, employees, and interns network with each other at many of the regularly offered information sharing events, social activities, and skill development opportunities.
National recognition with reoccurring placement on lists such as Forbes.com "12 Business Incubators Changing The World." the University of Illinois Research Park is known for supporting entrepreneurship and facilitating innovation.
TDFC IV Building
201 Saint Mary's Road, Champaign, IL 61820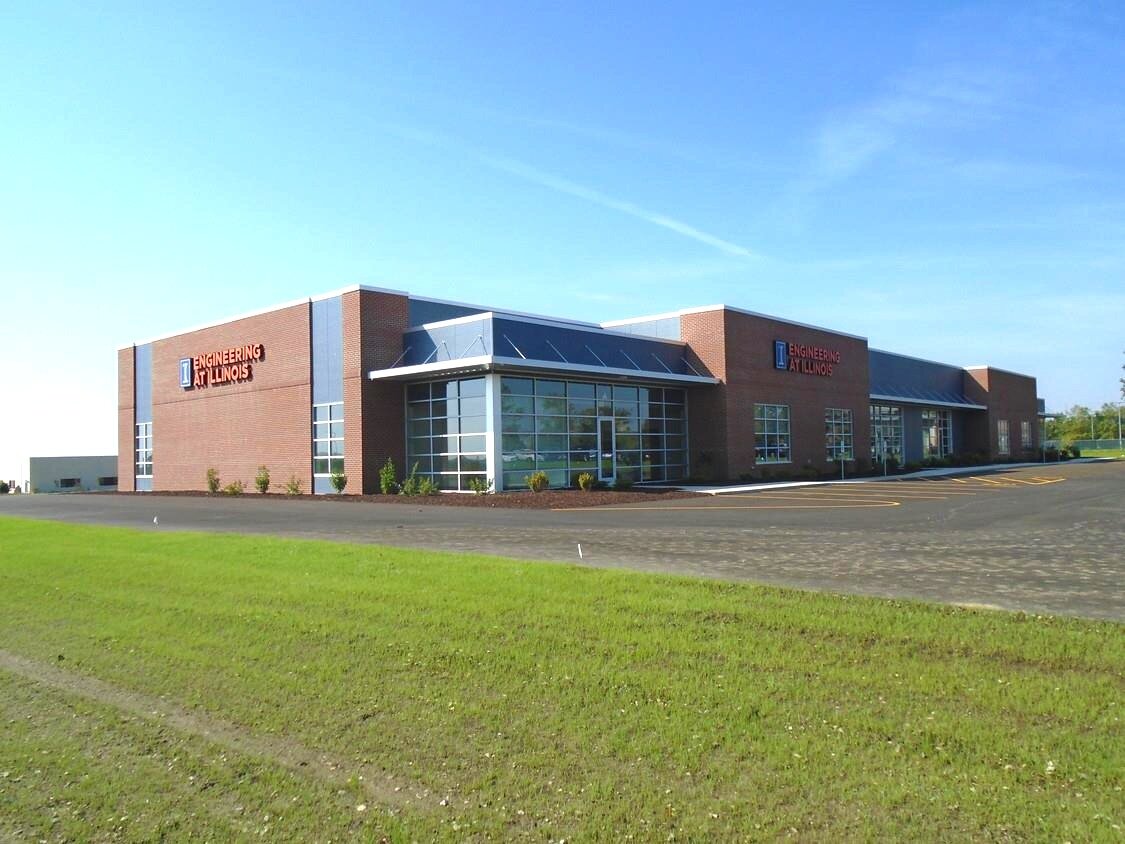 The TDFC IV Building, completed in August 2017, was designed for flexible space that accommodates office users and is conducive to labs, assembly areas, large equipment and ease of shipping/receiving for deliveries.
TDFC I
2111 S. Oak Street, Champaign, IL 61820
The TDFC I Building was the first industrial building constructed at the Research Park. Located at 2111 S. Oak Street, the 20,000 square foot multi-tenant building serves as a flex space option for companies in need of more than just office space. The building has common area restrooms and an overhead door for deliveries. Each space has its own exterior entrance.
The Atkins Building
1800 S. Oak Street, Champaign, IL 61820
This spacious, vibrant multi-tenant building has multiple spaces available for lease at the University of Illinois Research Park. The Atkins Building is adjacent to the State Farm Center and the iHotel making an easy commute throughout the Champaign-Urbana area. Tenant amenities include a full gym, kitchen, conference room, multiple common areas and break out rooms.
2021 S. First Street, Champaign, IL 61820
Located at 2021 S. First Street in the heart of the University of Illinois Research Park, this state of the art facility has over 55,300 SF, and comes complete with beautiful landscape around the premises. Schedule a showing for this vibrant building today.
Mixed Use Building
1904 S. First St., Champaign, IL 61820
The Mixed Use Building, which was completed in November 2017, is the newest development in the Research Park at UIUC. The building offers a total of 54,336 square feet of Class A office space on the 1st, 2nd and 3rd floors along with 6,264 square feet of retail on the west end of the first floor along First Street. The building features a spacious break area and shared conference room on the first floor along with shared restrooms.
The Mixed Use Building is located at 1904 S. First Street in the Research Park at UIUC between the I Hotel and Yahoo Building.
Current Tenants
AARP | Abbott Laboratories | AbbVie | Ameren | Amobee | Applied Research Institute | Archer Daniels Midland | Axis Reinsurance | Bayer | BP Spark | Brunswick | Capital One | CARGILL | CASI | Caterpillar | Cazoodle | Center for the Study of Democratic Governance | Chesterbrook Academy | Chicago Mercantile Exchange | CHI Overhead Doors | Cline Financial Services | College of Engineering | Common Ground | Country Financial | Dow AgroSciences | FASS | FIT (Foxconn) | Forcepoint/Ratheon | Hanson Financial | GlucoSentient | Granular | Graybar Electric | GSI | Illinois Rocstar | UIUC Indoor Climate Research & Training | InstaRecon | Japan Cornstarch | John Deere | Jump Trading | Littelfuse | PowerWorld | Nutrien | NVIDIA | UI OVPR | Rabo Agrifinance | Riverbed | RSM | Singleton Law Firm | State Farm| Starfire Enterprises | Synchrony Financial | Tekmill | TAI USA, Inc. | UIUC Speech Language Pathology Clinic | Vitascreen | WeSpline | Wolfram Research | UIUC China Executive Leadership Program |Yahoo!